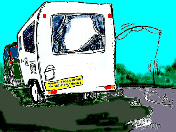 The pages that follow contain information provided by camp site owners and others. They have been edited, but only to enable the content to fit the page.
Should you decide to visit any of these sites.
Please mention this web site, and say the Madcaravanner sent you.
Don't forget all information on this website is Copyright of Madcaravanner 2011 .
Do you own a Campsite that I use regularly ??
E-mail me direct at gray@madcaravanner.co.uk
And chat to me about a page here
Just cut and paste into your email prog Or find me on
Facebook or Twitter
I'm on My Space too but hey who uses it anymore